What is a pie chart?
A chart depicted by a circle, where the areas of the circle represent 100% proportion. To subdivide the circle into proportion, a line is drawn from axis to the circumference of circle - proportionate dividing the pie based on values.
Pie charts are not recommended as a good visualization, rather we can use the bar plots instead.
When to use it?
When representing the proportion of values
When drawing comparison between discrete variables and their aggregated values
When the discrete variables being represented are less than 4. Additionally, good labels are added.
When not to use it?
When the discrete variables being represented are greater than 5
When comparison of a discrete variable, having another another discrete variable is required
Hueristic of making a pie chart in R
In the ggplot, aesthetic function call,

x should be empty
y should be the numerical variable from the dataset.
Fill argument should be the categorical variable from dataset.

Call geom_bar() function, wherein stat = "identity" and width = 1 is defined.
Call coord_polar() function with arguments ("y", start = 0)
Put value text labels using, geom_text() and also position it correctly like this. geom_text(aes(label = paste0(round(share * 100), "%")), position = position_stack(vjust = 0.5))
Put better colors for the fill argument in ggplot call like this. scale_fill_manual(values = c())
Finally, eliminate all the labels using the labs() functions call and only specifying the title.
Examples of making pie chart using ggplot2
Creating a sample data.
=

 

data.frame

(

brand =

 

c

(

"Samsung"

,

"Huawei"

,

"Apple"

,

"Xiaomi"

,

"OPPO"

,

"Other"

),
 df 

share =

 

c

(.

2090

,.

1580

,.

1210

,.

0930

,.

0860

,.

3320

))            
Donut chart
ggplot

(

data =

 df, 

mapping =

 

aes

(

x =

 

""

, 

y =

 share, 

fill =

 brand)) 

+




geom_bar

(

stat =

 

"identity"

, 

width =

 

1

) 

+


   

coord_polar

(

theta =

 

"y"

, 

start =

 

0

) 

+


   

geom_text

(

aes

(
   

label =

 

str_c

(

round

(share

*

100

), 

"%"

)),
     

position =

 

position_stack

(

vjust =

 

0.5

)
     

+


     ) 

theme_void

() 

+


   

scale_fill_brewer

(

palette =

 

"Dark2"

) 

+


   

labs

(

title =

 

"Manufacturer - Market Share"

) 

+


   

theme

(
   

plot.title =

 

element_text

(

hjust =

 

0.5

, 

color =

 

"red"

)
       )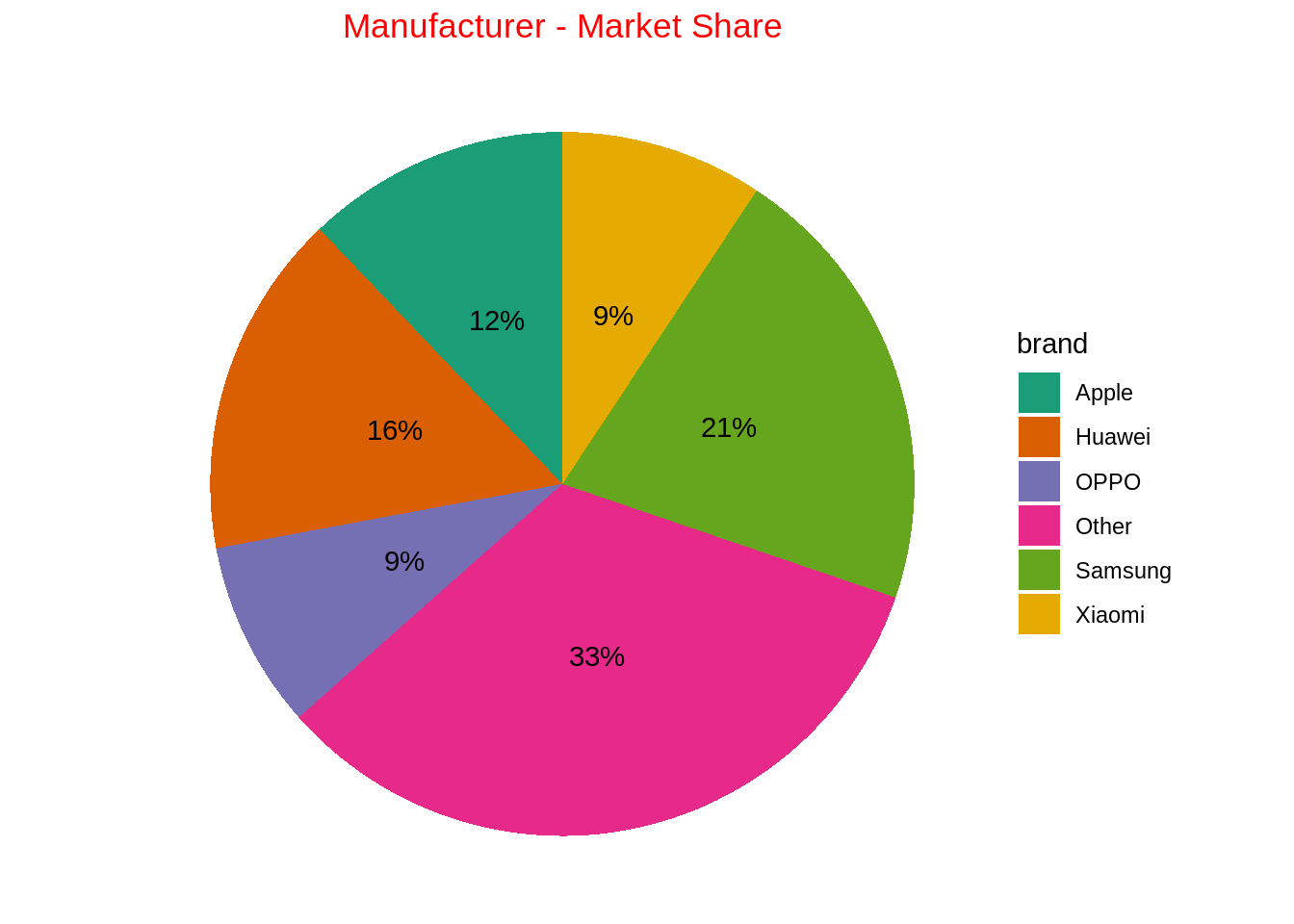 ggplot

(

data =

 df, 

mapping =

 

aes

(

x =

 

2

, 

y =

 share, 

fill =

 brand)) 

+




geom_bar

(

stat =

 

"identity"

, 

width =

 

1

) 

+


   

coord_polar

(

theta =

 

"y"

, 

start =

 

0

) 

+


   

geom_text

(

aes

(
   

label =

 

str_c

(

round

(share

*

100

), 

"%"

)),
     

position =

 

position_stack

(

vjust =

 

0.5

)
     

+


     ) 

theme_void

() 

+


   

scale_fill_brewer

(

palette =

 

"Dark2"

) 

+


   

labs

(

title =

 

"Manufacturer - Market Share"

) 

+


   

theme

(
   

plot.title =

 

element_text

(

hjust =

 

0.5

, 

color =

 

"red"

)
     

+


   ) 

xlim

(

0.5

, 

2.5

)